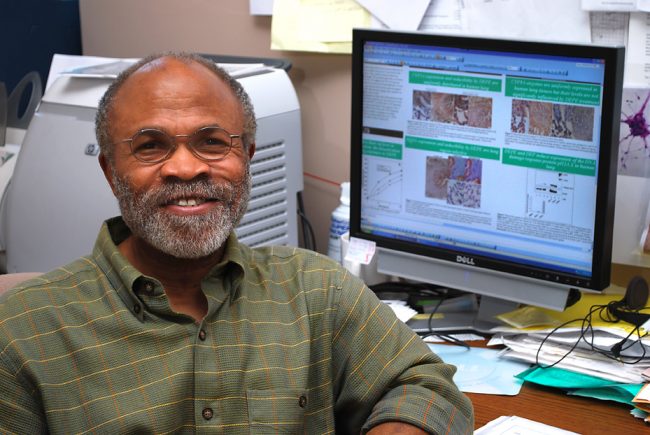 It is with deepest regret that the Department of Pharmacology and Toxicology of the Ernest Mario School of Pharmacy and the   Environmental and Occupational Health Sciences Institute of Rutgers, the State University of New Jersey, report the recent death of Professor Michael Marcel Iba. Professor Iba was a significant contributing factor to the successful development and productivity of the Ernest Mario School of Pharmacy and its related Environmental and Occupational Health Sciences Institute for the past 35 years.
Michael Iba was born in Nigeria (Sept., 1946).  He was strongly influenced by his mother who insisted that he should be educated in an English school.  When the time came for his higher education he was enrolled at the University of Wisconsin where he earned the B.S. in Chemistry and Biology (1971).  He then attended the University of Illinois College of Medicine in Chicago where he earned his Ph.D in Pharmacology  under the guidance of Professor Martin P. Schulman (1977).  His post-doctoral training continued with Professor G.J. Mannering in the Department of Pharmacology at the University of Minnesota, School of Medicine. He was appointed as an Assistant Professor of Pharmacology and Toxicology at the Ernest Mario School of Pharmacy in 1982 and was promoted to the rank of Associate Professor in 1988.
Professor Iba was a member of the American Association for Cancer Research, the American Society for Pharmacology and Experimental Therapeutics, the Society of Toxicology and the International Society for the Study of Xenobiotics.  He acted as a consultant to the National Science Foundation, the National Institute for Occupational Safety and Health, the American Petroleum Institute, the U.S. Environmental Protection Agency, and a number public and private  agencies concerned with toxicological research.
He also served as a resource for several university-wide and college- wide committees including the University Senate, the Multicultural Concerns Committee, the Library Committee, the Academic Standards Committee, Appointments and Promotions Committee of several departments.
Professor Iba's research career was largely devoted to the field of drug metabolism. As a graduate student he examined several aspects of drug metabolism activity in experimental animals of various ages and maintained an interest in the field of pharmacogenetics throughout his life. Building on his  post-doctoral research with Professor Mannering examining cytochrome P450's and the impact of the spin state of their Fe component on their biological activity, he established his own laboratory at Rutgers studying enzyme induction by 3,3'-dichlorobenzidine and its biological consequences. Of his more than 70 research reports, he published more than 20 papers in this specific area. His first groundbreaking contribution (Iba and Sikka, Biochem. Pharmacol. 32:901-909,1983) led to the appreciation of the significance of cyp4501A1 (then often referred to as cyp448) on the metabolic activation of several toxic and carcinogenic chemical species.
Michael Iba was quiet and self-motivated.  He was generally recognized as an accomplished and hard-working scientist.  Those who had the chance to work with him recognized his honesty, his good humor, and his willingness to help others as best he could.  We all wish he could have been spared his distressing terminal illness.  His friends and colleagues will miss him.
Prepared by: R. Snyder, Ph.D., A.T.S.
Professor emeritus