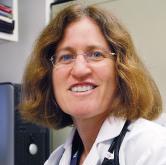 The William "Left" Clutter Award is presented by the Elizabeth Firefighters FMBA Local 9 in memory of William "Lefty" Clutter to commemorate a civilian who shows commitment to the overall well-being of the Elizabeth Fire Department through their loyalty and dedication. They act from outside the department with the desire to highlight and complement our appearance and strengths. For your dedication to the health of the members of the Elizabeth Fire Department through your work with the World Trade Center Medical Monitoring Treatment Program Dr. Udasin has been bestowed this award.
The award will be presented during a ceremony on Elizabeth Fire Department Day to be celebrated on May 4, 2017 in Elizabeth, New Jersey. The event is intended to honor the men and women of the Fire and EMS Divisions of the Elizabeth Fire Department for acts of valor in the previous year.
Congratulations, Dr. Udasin!