Posted at 3:33 pm September 17, 2015, in
Seminars
EOHSI/NIEHS Seminar Series – Fall 2015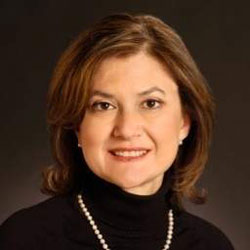 Sally Radovick, M.D
Professor of Pediatrics
Senior Associate Dean for Clinical and Translational Research
Rutgers – RWJMS
"The critical role of kisspeptin regulation of reproduction and metabolism"
September 24, 2015 – 12:00 PM
Rutgers University – Busch Campus
EOHSI – Conference Room C
170 Frelinghuysen Road, Piscataway NJ 08854
Summary: The precise coordinated expression and release of Gonadotropin-releasing hormone (GnRH) from the hypothalamus is critical for establishing and maintaining reproduction. Elucidating the molecular mechanisms of GnRH gene expression and regulation is thus vitally important for a complete understanding of mammalian reproduction. The goal of our studies is to provide in vitro and in vivo characterization of the signals and cell-specific proteins that mediate hypothalamic GnRH gene expression during puberty and reproduction. We use both GnRH-neuronal cell lines to probe detailed molecular mechanisms complemented with in vivo expression studies in mice to permit a critical physiological assessment of the relevance of each finding.
Kisspeptin, a protein controlling GnRH-mediated pubertal maturation and reproduction is expressed in specific neurons located in the arcuate (ARC) and anteroventral periventicular (AVPV) nuclei of the hypothalamus and controls GnRH-mediated pubertal maturation and reproduction. We have shown that kisspeptin binds to its receptor; a specific G-protein coupled receptor (GPR54 or Kiss1R) and in addition to stimulating GnRH release, increases GnRH mRNA levels in GnRH neuronal cell lines. Further, we have localized a kisspeptin-response element (KsRE) within the previously identified GnRH enhancer element. To define the role of kisspeptin-Kiss1r signaling directly at the level of the GnRH neuron, a GnRH neuron-specific Kiss1r knockout (GKirKO) mouse model was generated using a Cre recombinase and LoxP site system. The Kiss1r "floxed" animals were then crossed with GnRH-Cre recombinase transgenic mice producing a cell-specific Kiss1r KO mouse. A significant delay in pubertal onset in females and male GKirKO mice was observed. In female GKirKO mice, erratic estrous cyclicity was observed with the majority of females remaining in diestrous. Both male and female mutant mice had reduced gonadotropin levels and decreased levels of sex hormones. In addition, both sexes of GKirKO mice displayed disrupted morphologies of reproductive tissues including a microphallus in males, and a "thread-like" uterus in females. Moreover, infertility was observed in both female and male GKirKO mice. Taken together, these data provide in vivo evidence that the Kiss1r in GnRH neurons is critical for proper and timely reproductive development and fertility. This work provides new insight into the physiological role of Kiss1r in mediating in GnRH neuronal function and mammalian reproduction.
Kisspeptin has also been reported to be expressed in peripheral tissues including the liver, however, the role of hepatic kisspeptin and is regulation is not been clear. Our studies have shown glucagon stimulated hepatic kisspeptin is secreted to control pancreatic beta cell insulin secretion. We showed the presence of functional beta cell kissR and a decrease in stimulated insulin secretion in response to kisspeptin. Mice lacking the kissR in b cells exhibited derepressed glucose stimulated insulin secretion and improved glucose tolerance. Our observations identify the liver, regulation by glucagon, as the site of kisspeptin synthesis, define a liver-to-islet endocrine circuit in glucoregulation, and suggest a pathogenic mechanism in T2DM, causally linking hyperglucagonemia via hepatic kisspeptin to insufficient insulin secretion. The circuits connecting neuroendocrine kisspeptin regulation in reproduction to hepatic kisspeptin in glucose regulation are a proposed link between the critical role of metabolism on reproductive function.
Full calendar of events in and around EOHSI