Korean Scientists Visit EOHSI
Dr. Mingzhu Fang's Korean collaborators, Dr. Huan-Gu Kang and Dr. Byung-Jae So visited EOHSI on August 4-6, 2014 to discuss and exchange ideas about the Collaboration Project Agreement on "Development of Alternative Research Strategy to Screen and Classify the Neurotoxicity and Hepatotoxicity Potential of Veterinary Drugs" between Robert Wood Johnson Medical School and Animal, Plant & Fisheries Quarantine and Inspection Agency, Republic of Korea, which was signed on November 30, 2012.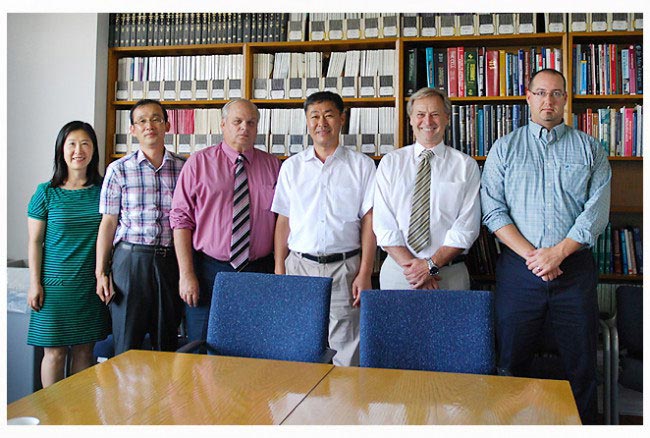 Rutgers University awarded one of ten grants from U.S. government to support international collaboration on global issues
The grant of nearly $250,000 is one of ten awarded to U.S.-led partnerships by the U.S. Department of State's Bureau of Educational and Cultural Affairs. It will support a new two-year research partnership between Rutgers University and University of Reading in the UK and Chongqing University in China that aims to investigate the impact of ambient air pollution on indoor air quality, particularly in China where air pollution is an emerging issue.  [Read more…]
ICER Seminar – EOHSI Conference Room C, March 12, 2014
On March 12, 2014, Dr. Tong Zhu from Peking University, China presented "Air Pollution in China: Scientific and Public Policy Challenges" at the EOHSI/ICER (Environmental and Occupational Health Sciences Institute/International Center of Environmental Research) Seminar. Dr. Tong Zhu is the Cheung Kong Chair, Professor and Dean of the College of Environmental Science and Engineering, Peking University, China. He is an internationally-known researcher in air pollution, atmospheric chemistry, and environmental health. Currently he is working with Dr. Zhi-Hua (Tina) Fan, Howard Kipen and other colleagues from EOHSI/ICER to promote international collaboration in the areas of air pollution, environmental health, and environmental policy.