Upper Airway and In Vitro Cellular Epigenetic Changes Associated with WTC Dust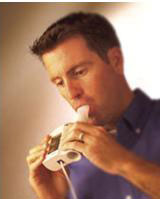 Principal Investigator: Robert Laumbach, MD, MPH
Purpose: To determine if persistent respiratory disorders in World Trade Center responders are associated with changes in DNA.
Who Participates: The study is recruiting non-smoking adults between the ages of 30 and 60:
20 members of the WTC Health Program at EOHSI who have respiratory symptoms are being recruited
20 healthy adults, with no respiratory problems, are being recruited. The healthy adults may or may not be from the WTC Health Program
Study Procedures: The study involves up to 3 visits to the EOHSI Clinic.
If you are a member of the WTC Health Program, you may screened for eligibility after your regular monitoring or treatment visit. Screening includes allergy testing by skin prick and will take approximately 30 minutes.
If you are eligible, based on your allergy testing, you will be asked to return for a study visit (about 2 hours). The visit will include:
a physical exam and medical interview
a breathing test (spirometry)
measurement of nitric oxide in your breath
collection of sputum and nasal cells
allergy testing, if not done previously
You will be asked to schedule an additional visit for a blood draw (20 ml or about 1 Tablespoon).
Compensation: You could receive up to $150.00 for taking part in this study according to the following schedule:
$50.00 for allergy testing
$50.00 for physical exam and specimen collection
$50 for blood draw
CONTACT US IF INTERESTED IN PARTICIPATING
Email: kgblack@eohsi.rutgers.edu | Phone: 848-445-6049